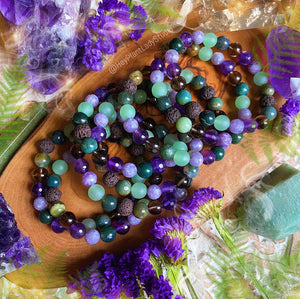 We have 0 in stock.
The Ancient Forest Bracelet features 8mm Indian Agate, Matte Green Aventurine, Faceted Lepidolite, Faceted Amethyst, Smoky Quartz, and Rustic Lava Beads. This bracelet has a soothing energy and was inspired by the relaxing feeling of being surrounded by ancient trees and swaying wildflowers while hiking through the forest. 

Add a few drops of essential oils onto each Lava Bead to diffuse your favorite scents all day. 


—Each bracelet is approximately 7" stretch to fit.
*Please leave custom size requests in the notes section at checkout.
—This listing is for one Mala Bracelet. This item ships free and includes complementary gift wrapping. 
—Each Mala Bracelet was handcrafted with love and positive intentions for the wearer.
— International buyers please be aware of your local import tax rates.
Thank you for supporting my work.
**Energetic properties of crystals are sourced from my favorite crystal books. They are meant to be used as a tool to enhance your spiritual practice. They are in no way meant to replace medical advice.