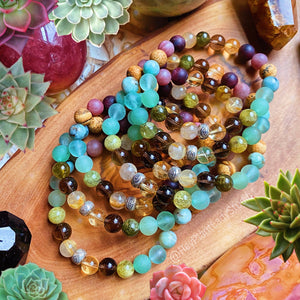 We have 0 in stock.
The Desert Mystic Bracelet was inspired by the cool tone succulents, sand covered roads, and sunset horizons of the desert. The desert is a place of reflection and peace, may you feel the healing energy of the desert as you wear this piece and meditate with these stones. 

This Mala Bracelet was made using 8mm: Golden Rutile Quartz, Green Garnet, Matte Strawberry Quartz, Matte Green Aventurine, Matte Fluorite, Matte Garnet, Matte Strawberry Quartz, Matte Picture Jasper, Smoky Quartz, Citrine, and Columbian Emeralds. Each Bracelet is finished with a Karen Hill Tribe Silver Mystic Eye Charm.

Thai Karen Hill Tribe Silver contains 97-99% pure silver - higher than sterling silver's .925. Higher silver content results in natural, lustrous texture and color. High-content silver is softer and easier to shape into beautiful, ornate styles.
Each piece has been individually handcrafted by skilled craftsmen from the native Karen Hill Tribe of Northern Thailand, thus maintaining its uniqueness. No two samples are exactly alike, in contrast to mass-produced jewelry


—Each bracelet is approximately 7" stretch to fit.
*Please leave custom size requests in the notes section at checkout.
—This listing is for one Mala Bracelet. This item ships free and includes complementary gift wrapping. 
—Each Mala Bracelet was handcrafted with love and positive intentions for the wearer.
— International buyers please be aware of your local import tax rates.
Thank you for supporting my work.
**Energetic properties of crystals are sourced from my favorite crystal books. They are meant to be used as a tool to enhance your spiritual practice. They are in no way meant to replace medical advice.