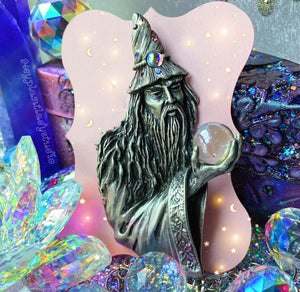 We have 0 in stock.
This vintage pewter brooch features a gazing wizard with a jewel flecked hat and a large crystal ball. This piece is so detailed and magical it is sure to be a favorite in your collection. 

Holiday Tip: loop a ribbon through the pin for an easy ornament.

This piece measures approximately 3.75" x 2"

This item ships fast with gift wrapping!

Thank you for supporting my shop.