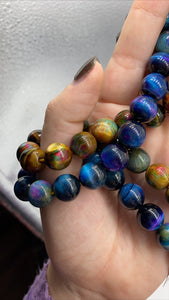 We have 0 in stock.
This listing is for two bracelets made using 12mm Galaxy Tigers Eye and 12mm rainbow Tigers Eye. These beads are full of colorful velvety flash. Tigers eye is a stone of courage, strength, prosperity, wisdom, and protection. 
—Each bracelet is approximately 7.5" stretch to fit.


— This item ships free and includes complementary gift wrapping. 
—Each Mala Bracelet was handcrafted with love and positive intentions for the wearer.
Thank you for supporting my work.
**Energetic properties of crystals are sourced from my favorite crystal books. They are meant to be used as a tool to enhance your spiritual practice. They are in no way meant to replace medical advice.